USA Payday Loans Review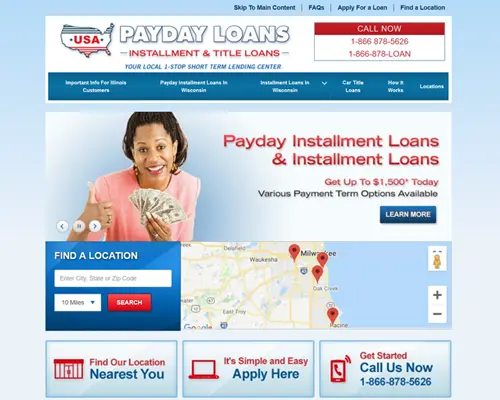 USA Payday Loans
Website: www.usapaydayloanstore.com
USA Payday Loans is one of the trade names of Title Lenders, Inc. - a direct lender that started its business in 2000 by offering various types of loans in Illinois and Wisconsin. The other trade name is "USA Loans". The company is doing its business in Wisconsin as a foreign business entity with the main office registered in Illinois.
The lender is regulated by the Wisconsin Department of Financial Institutions.
USA Payday Loans is also associated with other financial companies including USA Checks Cashed, MO Payday Loans, USA Payday Loans, and AAA1 Auto Title Loans operating in California, Wisconsin, and Missouri.
Products and services provided
On their website, USA Payday Loans claims that they offer payday loans (cash advances), installment loans, and title loans, but in reality, USA Payday Loans actually provides installment loans in Wisconsin, and not traditional payday loans (a short-term loan taken for a period of 1-3 weeks and repaid in a lump sum). Title loans are being provided by a partner company AAA1 Auto Title Loans.
Installment loans in Wisconsin
You can borrow an amount from $100 to $500 for a period of 6 to 12 months with no prepayment penalties. The loan can be repaid in fixed monthly or bi-weekly payments. The website also claims, that there is no interest on the first payment of your first loan up to $300.
Eligibility criteria
To get an installment loan from USA Payday Loans you need to provide a driver's license, or other state-issued photo ID, proof of income (such as recent pay stub, social security income, pension, disability income, or other), proof of social security number, and the most recent bank statement.
You can apply for an installment loan in one of their stores in Wisconsin or online via their website.
Auto title loans in Wisconsin
If you own a clear car title, you may be qualified for a loan from $250 up to $4000 for a period of 12, 18, or 24 months. The title loan can be repaid bi-weekly, semi-monthly or monthly.
Eligibility criteria
To be eligible for an auto title loan you must have a lien-free car title, a document (driver's license, state issued photo ID, or a passport), a proof of income (including social security income, disability income, pension), and an active bank account.
Loan terms and interest rates
The website does not contain any specific information about loan terms and interest rates. There are no prepayment penalties. You can repay the loan with cash in one of the offices, from your bank account (debited by USA Payday Loans). People with bad credit can also get a loan from USA Payday Loans with no credit check. If you are employed and want to use the proof of employment, then you have to prove that you have been working for at least 90 days.
Store locations
Racine
3326 Washington
Racine, WI 53405

Mon - Fri: 10:00 am - 6:00 pm
Sat: 9:00 am - 1:00 pm
Sun: Closed
West Allis
2755 S. 108th Street
West Allis, WI 53227

Mon - Fri: 10:00 am - 6:00 pm
Sat: 9:00 am - 1:00 pm
Sun: Closed
Oak Creek
120 E. Drexel Avenue
Oak Creek, WI 53154

Mon - Fri: 10:00 am - 6:00 pm
Sat: 9:00 am - 1:00 pm
Sun: Closed
St Francis
2320 E. Layton
St Francis, WI 53235

Mon - Fri: 10:00 am - 6:00 pm
Sat: 9:00 am - 1:00 pm
Sun: Closed
The Verdict
USA Payday Loans has a very weak online presence. The website is outdated and has misleading information, such as misused terms "payday loans" and "cash advances". The website mentions locations in Chicago IL and Missouri, but no actual store addresses have been provided. We were unable to find any meaningful user feedback on major review sites like TrustPilot. Another concern is the absence of loan interest rates, terms, and fees. If you decide to apply for a loan with USA Payday Loans we highly recommend giving them a call first to make sure that they are open and accepting new applications.
Be careful when taking a payday loan in Wisconsin since there is no maximum loan interest rate limit in WI.