AmeriCash Loans Review
Our Verdict
AmeriCash Loans is a legit installment loan lender that can be a good option for those who have no other options and those who have a poor credit score. They do offer same-day funding but do not disclose their actual interest rates and fees in advance. Also, the user feedback found online is mainly negative.
| Pros | Cons |
| --- | --- |
| No prepayment penalty | Interest rates are not available upfront |
| Bad credit accepted | Negative user feedback |
| Same-day funding available | Interest rates are high |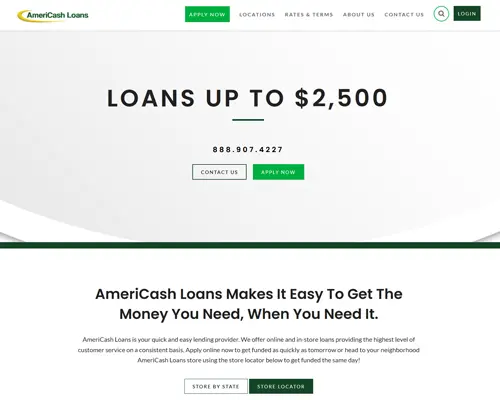 About AmeriCash Loans
Website: www.americashloans.net
AmeriCash Loans is a consumer finance company owned and operated by AmeriCash Loans LLC, founded in 1997 in Des Plaines, Illinois, the same brand is associated with separate business entities in each state where they operate. AmeriCash Loans is a direct lender that offers installment loans and cash loans in several US states, including Wisconsin, Missouri, South Carolina, Oklahoma, and Illinois.
Besides mentioned states, AmeriCash Loans accepts loan applications from the residents of the following states: Indiana, Arkansas, Florida, Iowa, Kansas, Michigan, Minnesota, Oklahoma, North Carolina, Georgia.
It is unclear though whether AmeriCash Loans is a direct lender or a broker in these states since they have no storefronts there.
The lender provides licenses and permits for states where they have stores on their website.
Products and services provided
Installment loans
In 2017 AmeriCash Loans stopped offering cash advances (aka payday loans) and instead focused on expanding their installment loan products to better meet the needs of their customers. This means that when taking a loan from AmeriCash loans, you will be able to repay it for a longer period in smaller installments.
Same-day funding available
In 2020 AmeriCash Loans started offering same-day loan funding to their customers. This means that now the money is deposited directly to the checking account the same day you get approval. Keep in mind, that same-day funding cannot be guaranteed and this option has certain restrictions.
To increase your chances of getting a loan the same day, make sure you apply before 11:30am CST with all required documents, underwriting approval, and signatures.
What do I need to apply for an installment loan?
Before applying for a loan from AmeriCash Loans, make sure that you have:
A valid driver's license or state ID
A verified bank account
Current proof of income
What can I use an installment loan for?
You can use these loans for any type of emergency expenses, such as
medical bills
car repairs
rent payments
other emergencies
AmeriCash Loans and Bad Credit
According to their website, AmeriCash Loan accepts applications from people with less than perfect credit and this fact will not prevent them from qualifying for a loan from AmeriCash Loans. Even if you have been turned down by other lenders, AmeriCash Loans may be able to assist you in obtaining a credit option that fits your needs.
Loan terms and interest rates
Unfortunately, the lender does not provide the interest rates up front, only the maximum loan amounts and terms per state. This means that you will not know your interest rate until you apply, get approved, and receive a loan offer.
Below are the maximum interest rates provided on AmeriCash Loans website for the states where they offer loans.
| State | Loan term | Amount | Average APR |
| --- | --- | --- | --- |
| Arkansas | up to 12m | $100-$2500 | N/A |
| Florida | up to 12m | $601-$2500 | N/A |
| Illinois | up to 120d | $100-$1000 | N/A |
| Indiana | 112-180d | $100-$4000 | N/A |
| Iowa | up to 12m | $100-$2500 | N/A |
| Kansas | up to 12m | $100-$2500 | N/A |
| Kansas | up to 12m | $100-$2500 | N/A |
| Michigan | 112-180d | $100-$4000 | N/A |
| Minnesota | up to 12m | $100-$2500 | N/A |
| Missouri | up to 12m | $100-$2500 | up to 499% |
| Oklahoma | up to 18m | $50-$1470 | N/A |
| South Carolina | up to 12m | $601-$2500 | N/A |
| Wisconsin | up to 12m | $100-$2500 | N/A |
How to apply?
You can apply for a loan from AmeriCash Loan in one of their 30+ stores or online at their website - this is actually the most convenient way to do so. You can register online and upload all required documents along with completing the application form. They also provide a phone number in case you need help.
How do I repay my loan?
AmeriCash Loans offers several repayment options:
Regular installment payments, when you pay the loan principal plus fees through a number of scheduled payments during the loan term.
Full payment. Just like with payday loans you repay in a lump sum anytime, with no prepayment charges.
Early or partial payment. You may make an early or partial principal payment on your loan at any time with no prepayment penalties.
Customer feedback
Unfortunately, we were not able to find any user reviews of AmeriCash Loans on major review websites like TrustPilot. The lender provides some reviews on its website, but we tend to ignore those due to obvious reasons. There are at least 20 ratings on ConsumerAffairs and most of them are negative with an average score of 1.4 which is very low. There are some reviews on their Facebook page, but these look very suspicious.