Advance Financial 24/7 Review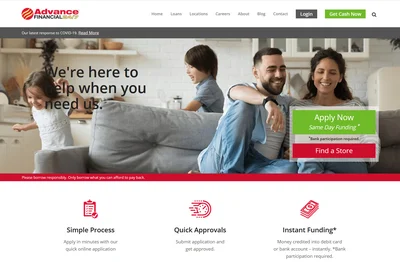 Loan products and services provided
Advance Financial has more than 100 of physical stores across Tennessee, but you also can use their online products and services in other US states, such as Alabama, Delaware, Idaho, Kansas, Missouri, North Dakota, South Carolina, Utah, Virginia, Wisconsin, Mississippi, Texas.
Line of credit
The line of credit is the most popular product of Af247. They describe it as a form of revolving credit that comes with limits. In other words it is an account that you can open with a bank, a credit union, or a non-banking financial company.
You can be approved for a preset amount by the lender and you can withdraw cash whenever you need it, as long as you stay within your approved credit limit. A line of credit loan can be an unsecured loan and you are not required to use any assets, like your car title, as security to get approved for a loan.
Line of credit limits and fees
Line of credit limits and fees vary by state. For example, in Tennessee, the maximum line of credit amount is $4000 with maximum APR of 279.50%. No annual/penalty/late fees. It is also possible to receive the cash on the same day if certain conditions are met. In South Carolina you can also get up to $4000 but the maximum APR is 450%.
Installment loans
An Installment loan is a type of cash advance where you get an amount of money in a lump sum and must repay the loan in fixed monthly payments or installments. Pay your monthly payment until the end of your loan or refinance for a new installment loan.
You may use your unsecured installment loan for instant cash to deal with emergency expenses, pay utility bills, and pay unexpected medical bills. You can pay back your Installment Loan as agreed on or before the due date.
Advance Financial offers installment loans in Alabama, Delaware, Idaho, Kansas, Missouri, North Dakota, Utah, Tennessee, Virginia, and Wisconsin.
Customer feedback
Advance Financial has an excellent score based on more than 6000 TrustPilot reviews which is extremely rare among cash advance lenders. Most customers value Advance Financial's great customer service. As for negative reviews, some clients have pointed out the high price of the cash advances.
The verdict
Advance Financial or AF247 is a legit and reputable direct lender for installment loans and lines of credit offering their online services in several US states with lots of locations in Tennessee.
Based on customer reviews, AF247 takes their customer care seriously. Their website is easy to use and is very informative. They list the maximum loan amount and APR per state but make sure to check your offer before signing an agreement for a loan with AF247.